UPDATE: MARCH 21, 2012:
Under pressure of the public and members of his own research team, Bill Wilkinson, better know as 'The Tombman' or its anagram 'Ben Hammott' issued a statement this week declaring that all his discoveries have in fact been forgeries.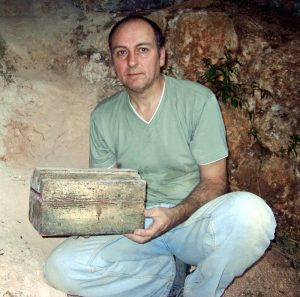 "It has been a long time coming and something that is long overdue. And to tell the truth, for once, I am glad it has all finally come out and I thank Andrew for being the intermediary that facilitated this outcome. I have thought many times about coming clean and telling the truth, but lacked the guts to do so.
Everything I said I discovered is a hoax, planted by me and only me.
Sandy, Bill, Pat, Rene and Bruce, my brother, and everyone else were unwitting pawns in my game, for the lack of a better word. I have no idea why I did it, or carried on what was at first a stupid prank that escalated out of control. My intention was never to deceive, but then of course it was by doing what I did.
Perhaps I did it for the money, though very little was ever forthcoming and realised early on that it probably never would.
Did I do it for fame and attention? Perhaps. I did enjoy it at times but it wasn't the driving force behind it.
Maybe I just carried on to see what I could get away with. I really don't know.
I know saying sorry to the many friends and acquaintances I have made and deceived over the years, can in no way make up for what I have done. There is probably nothing I can say or do now to right the wrong. But I am very, very sorry and know that many of them I will lose, which apart from the deceit, is perhaps the worst thing about this sorry and despicable act of mine.
Have I made money from my exploits, yes, a bit through book sales, but nearly all the money I have made has paid for further research and my many trips to rlc to try and find something real that I still believe to be there, to in some way hope to make up for my past deeds. I do believe Saunière found a secret, something hidden in the vicinity of Rennes-le-Chateau, and there is something truly amazing to be found. It is something that I will continue looking for.
I have had nothing since bad luck since I become involved with the Rennes-le-Chateau affair, bad karma, almost certainly. Today I have no money, no family life, no home and now probably very few friends. It is perhaps a well disserved outcome.
I apologize to everyone who has supported me over the years, everyone who bought my book, but most of all I apologize to my friends and family for letting them down. I cannot say sorry enough to Sandy, Bill, Rene and many others for being my friends and supporting me all these years. I have lied to you and let you down in such a big way I cannot even hope for your forgiveness.
Anyone who would like to return my book can contact me for a refund and when I have the money I will reimburse them.
Ben"
UPDATE: MARCH 15, 2012:
As it appears, Tombman Ben Hammott, who was pivotal to the Bloodline forgeries, wasn't new to using a mystery for his own fame and gain. Read here how he tried to sell a faked Loch Ness video and a fake copy of the Ark of the Covenant.
ORIGINAL ARTICLE: MAY 2, 2008:

On various websites and forums, the authenticity of the research that is behind the upcoming documentary film Bloodline is seriously questioned. The film is centered around the discoveries of English researcher Ben Hammott. During the production of the film, Ben was assisted by Bill Kersey, author of Still spins the Spider of Rennes-le-Château. On this page you'll find a summary of some of the more obvious issues of authenticity with the facts and artefacts that have been dished up to the general public so far:
The Bloodline Tomb in 1995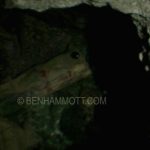 In 1995, English researcher Ben Hammott (an anagram for 'The Tombman' as he then liked to be called) accidentally dropped his video camera in a hole inside a cave near the French village of Rennes-le-Château. The camera got stuck in a shaft. He fished the camera back up with a piece of rope. Only later, when he viewed what the camera had filmed down the hole, all by itself, he noticed a white cloth with a red cross on it and concluded he had discovered a tomb. He never explained how, with the camera blocking the shaft and no light source inside the tomb, an image could be visible on camera at all.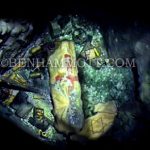 As soon as he'd discovered what had happened he returned to the tomb to shoot some more video of it. That he managed in the end you can see in the second picture. The better footage of the discovery wasn't picked up by any media which is quite odd since it was really an astonishing find, especially since there appeared to be a body inside. Ben Hammott: "Most people in the Rennes-le-Chateau circle, especially the French researchers, believed it was because I had something to hide, that I was up to no good, the tomb was just in my imagination. Looking back on it now, I in all honesty cannot blame them for thinking this way. Suddenly it is announced, on a far from professional web site, (I am cringing again) that a Templar Tomb has been discovered in France, even worse, by an Englishman." The entire story about how Hammott discovered the tomb was published in 2007 by Andrew Gough.
The Bloodline Tomb in 2007
In 2007, Hammott returned to the tomb. This contrary to the fact that earlier Hammott had claimed that he'd probably not be able to find the location back at all. This time he had been equipped with a professional camera on a rope by American film producer Bruce Burgess who became famous by landing a plane into Area 51. Burgess never entered the cave himself but stood guard outside while Hammott did his thing. This time, even better video footage was shot. A comparison of this video to the images from 1995 shows that some of the objects inside have moved and the cloth is folded differently even though the only access to the tomb is the narrow shaft. The most obvious change is how the round pot has moved a lot futher away from the chest in the top picture which was taken from a recent Bloodline videoclip (click the picture to enlarge it). Ben swears the tomb only has one access and he has never been into it. Since there is no big rock in the picture that could have fallen down from the ceiling to displace objects, the only conclusion can be that someone moved them. In the old pictures it looks like the tomb is actually a scale model, lit from a lightsource inside the tomb since you don't see the shadows move when the camera does. In the newer video footage the tomb feels more life size. In the Bloodline movie it's claimed this is the burial site of none other than Mary-Magdaleneand that it is just one of three such sites in the area that lie in a triangle. Nowhere is it explained why the bride of Christ was laid to rest in such pity circumstances and why. That is apart from the obvious neglect of Jewish burial practices from the time of Jesus until the Middle-Ages.
French Archeological Authority

According to this Press Release the tomb has been reported to the French Archeological Authority of Montpellier (Direction Régionale des Affaires Culturelles, DRAC). On the Bloodline website, in the NEWS section, producer Bruce Burgess also claims that they are talking to French speleo's of the DRAC to discuss a full-scale survey of the tomb. The man they quote is called Jean-Pierre Giraud. The RLC Research team called the man who is actually responsible for archeological discoveries in the region as well as this Jean-Pierre Giraud, the man Bloodline spoke to.
Listen to the interview here:
Update Required
To play the media you will need to either update your browser to a recent version or update your Flash plugin.
For the readers that don't speak French: What Giraud told us is that Bruce Burgess and Ben Hammott showed Giraud some images and asked if they would be interested to see the tomb in real life. Of course Jean-Pierre indicated that's what DRAC is there for so yes they were. Bruce and Ben promised Giraud they would take him to the tomb and left. DRAC was later informed that the visit couldn't take place because Ben was ill. Later it was stated to the RLC Research team that it wasn't Ben but Ben's son who was ill. DRAC, who would normally go to the site of an important discovery on the same day, did not create a dossier since no-one never saw the tomb or any photo or map of it. No word has been heard from Bruce or Ben since, strongly suggesting they only came in to get a quote they could use for the film, leaving DRAC embarrassed, angry and convinced this is a hoax.
First Bottle and Message

As early as 1996, Hammott turned up during a meeting of the Rennes Group. The Rennes Group is a periodical meeting of longtime English Rennes-le-Château researchers, organized by Guy Patton and Jonothon Boulter. During the meeting he showed and opened what he now calls 'Bottle 1′. Inside was a parchment, or rather a not very old looking bit of paper that looked quite different than the pictures that are currently on Ben's website of it.

There are a number of issues with this first piece of paper. For example that Bérenger Saunière, the priest of whom we have dozens of handwritten letters and a meticulously kept set of accounting books made a mistake in his own signature. He writes Sauniére instead of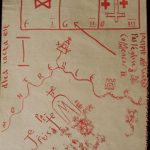 Saunière. A very uncharacteristic mistake, incomprehensible from a well-educated Frenchman. Furthermore, the priest who is well known for his beautiful cursive writing has reverted to a child-like type of print in red ink. Typically, this signature with the faulty accent wasn't among the ones that were shown to British handwriting expert Emma Bache when the Bloodline team went to see her to authenticate the messages. They did show it to French native and researcher of Rennes-le-Château, Antoine Captier who dismissed it immediately as fake. There's also mistakes in the Latin. Occultus for example is spelt as 'Occulttus'. Apart from all these issues to do with the authenticity of the message, the paper it's written on doesn't look very old at all nor does the bottle. According to Hammott, Bottle 1 was found near the Devil's Armchair in Rennes-les-Bains. He projected the crouched statue of Asmodeus in Saunière's church on the rock chair and dug where Asmodeus looked. There,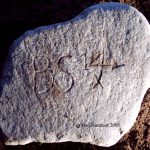 he says, he found an engraved stone, buried about 18 inches deep. In his own words: "After a depth of about eighteen or so inches I struck a rock. Lifting it out so I could continue my excavation, I was just about to discard it, when I noticed something on the stone's surface as it caught the light. Brushing away some of the caked on dirt, I saw some markings that didn't seem natural, so I called Sandy over for conformation. With the stone still dirty it wasn't until we had washed it in the Circle spring that we could finally see the markings clearly and realised we had solved the first part of the puzzle."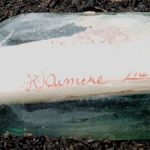 What Hammott doesn't tell is that the entire area around the Devil's Armchair is made up of solid rock with a thin layer of soil. The arrow on the engraved stone led Hammott to the location of the infamous Bottle 1. Mind you, both the stone and the bottle, he found in an area of a few square metres that has been trampled by hundreds of researchers who have investigated every inch of it and never found anything. Again, by the time Hammott eventually published this information on his website in 2005, 9 years after the discovery, the 'parchment' had mysteriously changed.
2nd, 3rd, 4th, 5th Bottle and Message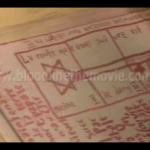 It took another 2 years before Hammott went on a search for even more bottles. He discovered no less than 3 perhaps even 4 more bottles with messages. Bottle 2 was found at the Source of the Magdalene, again near Rennes-les-Bains. Hammott describes his find here. As far as one can tell by the video clips from Bloodline, message two has issues as well. This time it's in the French: it says "LA ROUTE QUE VOUS SUIVRE EST PLEINE DE DANGER" that's not French, it's English with French words. A Frenchman would never phrase this way. That's apart from the more elementary grammatical problem that the right conjugation of 'SUIVRE' (to follow) would be 'VOUS SUIVEZ'. Someone has not been paying attention in French classes very well here. Little has been published about the rest of the bottles and the messages in them. Only that all three or four of them were discovered live on camera with a production team present. Bill Kersey, in an interview on Radio Rennessence in February, recounts how he was present at the discoveries and helped Ben to look in the right places…
Parchment shown on ABC's Nightline
American television network ABC, showed one of the parchments on it's Nightline show. The 8 lines that are displayed are ridden with errors. No Frenchman, let alone Bérenger Saunière, a well-educated and erudite priest who wrote a staggering number of letters during his life in a meticulous and gracious French, would make any of the mistakes that are made in this 'parchment'. It has systematic gender confusion all over the place. It's LA résurrection, not LE. It's LA vere histoire, not LE. That is, if VERE would be a French word which it isn't. It's l'histoire DE LA crucifixion. DES Crucifixion has a sad record for being wrong twice. It's should be a singular and female, not plural and male. Need I go on? This is English with French words. I hope I'm allowed to quote a member of one of the Rennes-le-Château forums: It's the hallmark of an English speaker (as are the erroneous use of the infinitive, etc.). The 8 lines on this piece of paper have little in common with the French language. This document is supposed to tell the most explosive secret in the history of Christianity: that Jesus never died on the cross but 22 days later. I can only conclude it is perhaps the worst forgery in the history of Christianity.
Bloodline BlogTalkRadio shows
In the BlogTalkRadio shows, hosted by the Bloodline producers, in a discussion with Lionel Fanthorpe, around 11 mins 40 secs in, Burgess recalls the discovery of the chest (from clues in the last bottle that was found), stating that Bill Kersey was dowsing for the location and 'found the spot'. So we now learn that after being able to locate the bottles, Kersey was also instrumental in locating the chest and that a technique that is only known to work to find water, somehow is able to work on esoteric treasures too. One person commented: "Let's just say I felt a tad angry with Bruce and Lionel Fanthorpe's comments. They seem to be suggesting one should not question the validity of Ben's finds (which is ripe considering Bruce's comment that he was suspicious of Ben at first). By the way, all the back-slapping made me feel nauseous."
A Wooden Chest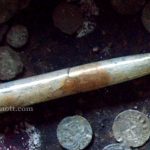 At the end of 2006 Ben Hammott dug up a wooden chest from the Grotte du Fournet dite de la Madeleine (Burial Cave of the Magdalene), as it's called by the local populace, close to Rennes-le-Château. It is unclear whether it was actually from this cave or the smaller cave with a triangular entrance some metres to the side of it. Both caves have been visted and dug in by countless researchers, notably Guy Gentil, Gérard Dutriat and Henri Buthion to name a few, yet Ben was the only one who managed to find a wooden chest, under just a couple of centimeters of earth as you can see in the video. Inside the chest, which measures approximately 15 inches by 10 inches by 8 inches, where a small, conical pottery cup, a six inch high pottery jar, a cracked glass vial containing a rolled parchment, and a number of ancient coins. It was immediately claimed that it might well concern the 'wedding gifts' of Mary Magdalene although there wasn't a shred of supporting evidence. The box was smuggled out of the country to the British museum even though the French police actively and severely prosecutes anyone who smuggles archeological artefacts out of the country. This wouldn't of course have been an issue if the chest had been smuggled intoFrance to be only temporarily buried there.
Nicolas Haywood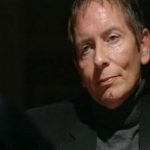 In two of the videoclips, the Bloodline team put on the internet, interviews are shown with a certain Nicolas Haywood, who is presented as an insider with the very secretive Priory-of-Sion and thereupon goes on the record saying this secret must never come out. A sceptic might think that doing an interview about it with a notorious American film producer in front of a camera is perhaps not the best way to keep any secret. And so, after Bloodline, you'll find yourself initiated in the age-old secret that all the claims from Holy Blood, Holy Grail and the Da Vinci Codeare true: Mary-Magdalene and Jesus were married and had children. Moreover, they were all buried in the south of France. Their burial sites were discovered in the late 1800s by the priest of Rennes-le-Château, Bérenger Saunière, who left clues all over the region that have now been re-discovered by Ben Hammott.
If it looks and quacks like a duck..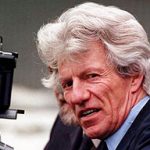 There are more issues. Speculations were made about the death of Lord Patrick Lichfield, owner of the enigmatic Shugborough Hall, that upset many of his friends. Bruce Burgess, in the film, suggests his own life is in danger because of his investigations even though he worked on the project for over 4 years, giving any lunatic plenty of time to kill him well before the movie went into circulation. Ben Hammott manages to do 6 or 7 very impressive discoveries in a very short time, 5 or 6 of them on camera with an American production team on his tail. Ben's supporters state matter-of-factly that it is the sheer genius of the man that he managed to find what so many have searched for over 60 years and that there were of course also some trips on which he found nothing. They claim people are just jealous of Ben's fenomenal success. Fact is that in 12 or so trips to France, he had a hit rate of 50% which is quite high for any treasure hunt I reckon.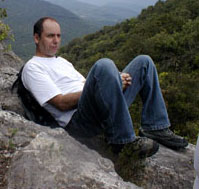 On closer examination of the facts behind Ben's discoveries it becomes apparent that the evidence and artefacts he brings to the table are unconvincing. There is clumsy mistakes in them, suggesting they are forgeries by someone without native command of the French language in the 19th century and too little knowlegde about the background of the true historical context of the Mystery of Rennes-le-Château. The evidence in the movie is built up around dating of coins that could be bought or found anywhere, hairs said to be taken from the corpse and so on and so forth. Nowhere is there any proof that the artefacts are genuine or were there representatives from any authorities present that could easily have legitimized the claims. Judging from the combined facts and established issues of authenticity with them it is clear that the discoveries of Ben Hammott are poorly made forgeries intended to fuel a sensational but badly substantiated story. Let this not stop you from going to watch the film. What I have seen of it is well made. It's suspenseful and has a great atmosphere of intrigue that many a Da Vinci Code fan will love. Burgess can tell a story allright. Just don't take it for fact. Raven