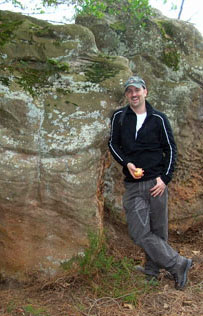 It was in October 1996 that I entered an old bookshop in Valetta, the capital of Malta. Valetta is a beautifully enwalled city that still looks like the Knights Templar only left yesterday. I needed a book that could entertain me for a few hours on the flight back home to Holland. The book I bought was a small paperback copy of Holy Blood, Holy Grail by Henry Lincoln, Michael Baigent and Richard Leigh. The book ultimately led me to the village of Rennes-le-Château in the French Languedoc.
Like so many people before me I fell in love with the landscape, the history and the atmosphere of the place. I have been returning there ever since.
Even though it's not difficult to fill an average living room with books on the subject, I found it hard to find good sources on the internet. The majority of websites in the genre tend to be outdated, hard to navigate and sometimes downright ugly. I missed a place where an enthusiast, a serious researcher and everybody in between could go to hear both the old and the new insights. A place where pieces of the Rennes-le-Château puzzle lie waiting to be assembled. It is exactly that I am trying to achieve here. It's an enormous task but one that I have thoroughly enjoyed so far. As you can see things got a bit out of hand. I don't think this website will ever be finished. There's too much stuff out there waiting to be discovered.

All content of this website is licensed under a Creative Commons Attribution-NonCommercial-NoDerivs 3.0 Unported License. The content of this webiste is registered with the U.S Copyright Office.
About the drawings

The drawings used in various sections of this website are fragments of the excellent comic book 'Rennes-le-Château, le secret de l'Abbé Saunière by Antoine Captier and Michel Marot.
This indispensable book can be bought from La Porte de Rennes, the little bookstand at the entrance of Saunière's domain in Rennes-le-Château.
About my sources
All the material posted on this website has been cleared by the rightful owners and or copyright holders where possible. In many cases specific references are made to the sources of the information in the topics. For the largest part, the information on display here is drawn from sources as close as possible to the heart of the Mystery of Rennes-le-Château. With that I mean the original works of serious research by Antoine Captier, Claire Corbu, Franck Marie, Gérard Dutriat, René Descadeillas, Pierre Jarnac, Jacques Rivière+, Jean-Luc Chaumeil, Filip Coppens, Klaas van Urk, Franck Daffos, Putnam & Woods, Christian Doumergue, Isaac Ben Jacob and André Douzet. Only in second instance I draw on the sources I consider a bit further away like Gérard de Sède, Henry Lincoln, Michael Baigent, Patrice Chaplin, Karl Hammer-Kaatee, Schellenberger & Andrews and a very long list of other authors. Where possible I have consulted the original historical material by for example Paul Courrent, Abbé Lassère, Henri Boudet, Lous Fedie, Jacques Cholet, Ernest Cros and the Port Royal archives.
No matter how good other people's research is, nothing beats doing it yourself in the actual area.
I advise everyone with an interest in the subject to travel to the region to see things for yourself. It will give you a much better grasp of how Saunière's domain stands out and what this mystery is really about. I have made it a habit of visiting the site multiple times a year. I hope we can meet up there some time as I am always interested to meet the people that share my passion.
When you are doing your research, please respect nature and the properties of the locals.
Should you find anything here you consider to be in violation with your copyright, kindly contact me so I can do something about it.
Thank you for visiting Rennes-le-Château Research
To me, the book of Rennes-le-Chateau is one without ending. The chapters write and extend themselves with every new insight. I hope you enjoy browsing this site as much as I enjoy to make and maintain it. Thank you for being here.
Take care | Corjan de Raaf