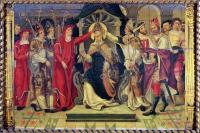 Allegory of the Coronation of Celestine V / Musée du Louvre, Paris, France
The painter is unknown but is has been dated 16th century. It is thought this is the painting of Celestine V that is referred to in Les Dossiers Secrets and in Gérard de Sède's book The Accursed Treasure of Rennes-le-Château as the one allegedly bought by Saunière from the Louvre in Paris around 1891.
Research by Christian Attard has made it apparent that this is an impossibility. The painting wasn't recognized and subsequently classified as being of Celestine V by the Louvre until 1923.
No copy of a painting of Celestine V was ever found amongst Saunière's posessions or those of his relatives and friends.
Behind this dowload link is a super high-res image (20mb) of this painting for your research. kindly donated by Karl Hammer-Kaatee.