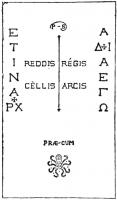 Horizontal Tombstone of Marie de Nègre d'Ables
Also called the Arcadia stone. Transcription of the horizontal tombstone of Marie de Nègre d'Ables, Dame d'Hautpoul, Marquise de Blanchefort +17/01/1781. De engraving is believed to have been commissioned by Abbé Antoine Bigou. Notice that it too carries the phrase Et in Arcadia Ego. Saunière went to great lengths to erase the entire face of the stone. He later used the defaced stone as a roof for the ossuary in the village cemetery. We know of the inscriptions from the Dossiers Secrets.
This slab, sometimes also called the Arcadia Stone is also said to have been the cover stone of the Tomb near Les Pontils that beared a striking resemblance to the tomb displayed on Nicolas Poussin's Shepherds of Arcadia.
Société Perillos has written a series of articles about the old cemetery of Rennes-le-Château and the original locations and purpose of Marie de Nègre's tomb here.

The two tombstones as they must have looked together when they where still in place.