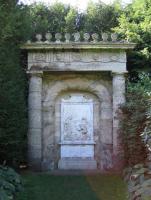 Engraving in the Marble Bass Relief of the 'Shepherds Monument' at Shugborough Hall, Staffordshire, England
The monument was commissioned in 1748 by Admiral George 1st Baron Anson. The engraving, is in fact, an inverted copy of Nicolas Poussin's Les Bergers d'Arcadie, with an additional tomb depicted. The work was executed by Flemish sculptor Peter Scheemaker, well-known from his sculpture of William Shakespeare in Westminster Abbey (1740). He worked off a printed version of the painting by Bernard Picart The monument around the relief was designed by 18th century Astronomer and architect Thomas Wright. Wright had been asked by Anson to make various changes to the house when he moved in in 1748. He

was a wellknown freemason whose home in Durham contained a ciphered version of his motto.
When Anson's intimate friend and political patron Henry Pelham suddenly died in 1754 on the eve of the general elections, his funerary monument in the gardens of Esher Place was also adorned with a copy of The Shepherds of Arcadia and the inscription Et In Arcadia Ego.
At the bottom of the Shugborough monument a code is visible:
D OUOSVAVV M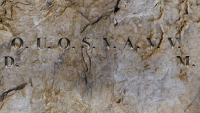 According to this book by Stuart Nettleton it is based on a Genesis 50:25 which deals with the death of Joseph in Egypt. For reasons explained in his book the middle sequence needs to be inversed: D.V.V.A.V.S.O.U.O.M which stands for
Deus Visitabit Vos Asportate Vobiscum Sancta Ossa Upilio Occulto Maneo
or
God will surely come to your aid, and then you must carry away the shepherd's holy bones to remain concealed.
A more mundane explanantion is given by Margaret Countess of Lichfield, the current occupant of Shugborough Hall. She recounts a saying "out of your own sweet vail Alicia vanish vanity twixt Deity and man thou Sheperdess the way"
Location of Shugborough Hall