Tomb of Nicolas Poussin, Basilica Lorenzo in Lucina, Rome
Nicolas Poussin died in Rome in 1665 and was buried in the Basilica San Lorenzo in Lucina. Vicomte de François-Auguste-René Châteaubriand (1768-1848), French Ambassador in Rome, raised a monument to Poussin above the artist's mausoleum in 1820. It carries a dedication and a bas-relief displaying his most famous painting the Shepherds of Arcadia. Below the plaque there's an inscription that might well answer our question of whether Poussin preserved esoteric clues in his work. It states:
'PARCE PIIS LACRIMIS VIVIT PUSSINUS IN URNA VIVERE QUI DEDERAT NESCIUS IPSE MORI HIC TAMEN IPSE SILET SI VIS AUDIRE LOQUENTEM MIRUM EST TABULIS VIVIT ET ELOQUITUR'.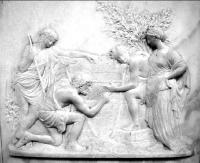 This curious expression speaks about how Poussin has given his life without really dying. He is silent now but if you're prepared to listen you can hear him speaking through his paintings.
Châteaubriand's dedication reads: 'F-R de Châteaubriand to Nicolas Poussin, for the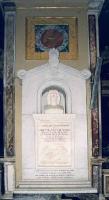 glory of the Arts and the honour of France' The bas-relief displaying Les Bergers d'Arcadie was executed by LéonVaudoyer(1803-1872). The bust of Poussin, above it, is signed 'P. Lemoyne'.
Châteabriand must have had a special connotation with the painting and it's catchphrase, he had an engraving of it made in the wall of his castle in France.