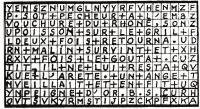 Around 1965 Henry Buthion (who had just bought the Villa Bethania from Noel Corbu) and his friend Jean Pellet found a piece of paper with some scribblings in Abbé's Saunière's, handwriting inside his personal altar in the housechapel. It was hidden there in a piece of hollow bamboo sealed with wax behind a loose tile. The little note was wrapped in a newspaper from 1907 and contained a silly poem reading:
Sot Pecheur a l'embouchure du Rhone, son poisson sur le gril deux fois retourna. Un malin survint et XXV fois le gouta. Cuit, il ne lui resta que l'arete. Un ange veillait et en fit un peigne d'or. B.S. Cur.
which translates as:
Stupid fisherman at the mouth of the Rhone, he turned his fish on the grill twice. A devil popped up and tasted it 25 times. Cooked, all that remained was the bone. An angel watched and made a golden comb. B.S. Cur.
The original unfortunately got lost in a fire. The poem seems to link to a local fable called La Légende du Peigne d'Or (Legend of the Golden Comb).

French researcher Patrick Mensior has done an elaborate analysis in his book: l'extrordinaire secret des prêtres de Rennes-le-Château
Researcher Roger Boonaert has come up with an interesting theory that has many followers among his colleagues. He start with the number 17 as indicated by Station of the Cross Number X Jesus Is Divested Of His Clothes. In the first round of decypherment he found the following text:
TRESOR ENFOUI AU LAGASTOUS AVEN 1785
treasure buried at Lagastous aven 1785
In the next round of decyphering he found a sentence of 128 letters, the same number as on the headstone of the Marchioness d'Hautpoul-Blanchefort
OR NATIF ROMAIN HAUTPOUL DEPOTS WISIGOTHIQUE ALARIC ROYAL TEMPLIERS BEZU ACCES KARST SUD AVEN RAYONS LLLLLLXV M POINTS AVEN P CARLA ROI MORT MMLLLLXLV M
native roman gold Hautpoul deposits Visigoth Alaric royal Templars Bezu access karst south aven rays LLLLLLXV M points aven P Carla dead king MMLLLLXLV M
©2007-2012 renneslechateau.nl, all rights reserved