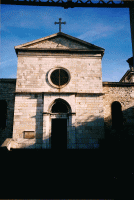 As reported by many researchers and meticulously documented by Pierre Jarnac, Abbé Saunière was out of town a lot. There are many short and long periods of time that no sermons were held in Rennes-le-Château. To cover for his absence, Saunière left pre-written letters with his housekeeper Marie Dénarnaud. She had to send them to anyone who wrote to the Abbé to so they would think he was in Rennes-le-Château.,  Saunière obviously didn't want people to find out that he was often away from his parish. It was not an uncommon thing for a 19th century priest to be travelling a lot and there could be numerous reasons perfectly acceptable to the diocese and the villagers. That Saunière still went through the pain of preparing a false alibi might be an indication that he used his trips for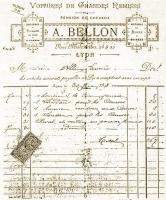 clandestine activities that wouldn't carry the approval of his bishop. In the last couple of years much information has been uncovered which gives us an indication of where he went.
One of the cities Saunière appears to have frequently visited was Lyon. There is quite a bit of evidence of his presence there and what the purpose was. It looks like the priest used to stay in a house in the Rue des Macchabées with the widow Jarau-Mermoutte who owned some small apartments on the hill of Fourvière, St Irenee and Ste Foy-le-Lyon. The address is close to the Church of St. Irenaeus. We know that from some correspondence that was found there, sent to the Abbé Saunière.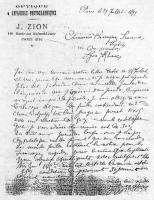 Among it are bills for the rental of a carriage in May, June and September, 1898, April and July 1899 and the last one for May 1900. Other correspondence includes a letter from J. Zion Opticians and L. Joux, both in Paris, with information, and tarrifs for some, powerful lenses and photographical equipment.,  What Saunière aimed to do with these is uncertain.
The third and most intriguing clue is Saunière's presence, at three meetings of the Martinist lodge of Lyon.