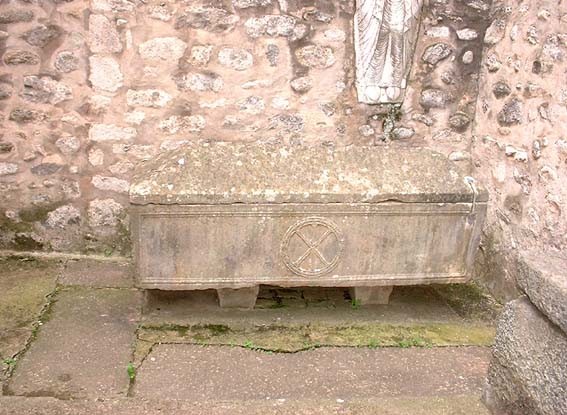 In October 1904, Abbé Saunière sent a postcard to Marie Dénarnaud from the village of Arles-sur-Tech. This pilgrimage site, close to the spa town of Amélie-les-Bains at the foot of the Pyrenees, drew and still draws people from far away to worship a Holy Tomb (La Sainte Tombe) supposedly of Saint Abdon and Saint Sennen. Abdon and Sennen were two Iranian saints that were eaten by the lions in the Colloseum in the year 254. Until this day, every day water gathers in their sarcophagus of the purest quality. Once a year the water is siphoned out by the local monks and handed out to the pilgrims. Saunière visited the site multiple times. On one occasion he brought his friend Eugène Grassaud a small bottle of water from the Tomb after he had been relocated to St. Paul de Fenouillet, no longer being in de direct vicinity of the site.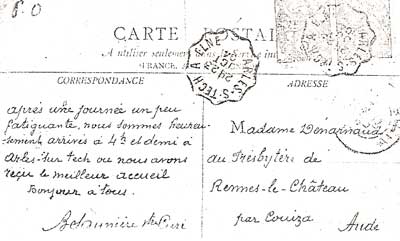 In 1909, a foster sister of Marie Dénarnaud gave birth to a child. The child being seriously ill, it was handed to the brotherhood in Arles-sur-Tech that managed the relics. They decided to treat the baby with the Holy Water. Although the family was convinced the child would die, the little boy miraculously recovered and was baptized Abdon in recognition for the miracle. Abdon was raised under the guardianship of the priest as recounted by Madame Sonia Moreu in an interview with Jean-Patrick Pourtal in July 2000, recounting an anecdote from the old Madame Olive who lived close to Rennes-le-Château and who had known both Henri Boudet and Bérenger Saunière: "during a Sunday lunch the boy had pestered Saunière for a chicken leg after which the priest had sent him away from the table and denied him the meal".

Quote from Sonia Moreu taken from an interview by Jean-Patrick Pourtal of Rennes-le-Château Le Dossier displayed here with kind permission.