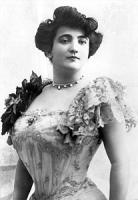 Emma Calvé (Rosa-Emma Calvet) 1858-1942 was one of the most famous opera singers of her day. She was deeply attracted to, and a leading participant in, the thriving esoteric scene in Paris, taking as a lover one of the most renowned occultists of the time, Jules Bois.
In 1894 Emma bought a château at Cabrières in the Aveyron region. This was said to be the place where the book of Abraham the Jew, used by the great medieval alchemist Nicolas Flamel, was hidden. A book written in 1655 by Pierre Borel makes this connection:
Now the book by which Flamel said he came to achieve the Great Work is that of Abraham the Jew. Many have worked to recover it… but these searches have been useless. I have nevertheless been assured by a gentleman of Rouergue called M. de Cabrières, tenant of his château of Cabrières near Millau, where I went specially to see this Monsieur, that he had the original of this book, which M. le Cardinal de Richelieu recovered a short time before his death.
Allegedly, Saunière met this internationally acclaimed opera-star on one of his trips to Paris.
Emma was often to be found at St. Sulpice, mystic heart of the French capital at the time. It is there that Gérard de Sède claimed they first met in his book The Accursed Treasure of Rennes-le-Château. It is said Calvé and the Abbé had a passionate affair. It is a fact that villagers of Rennes-le-Château have testified hearing a strong and melodic opera voice singing during some of Saunière's lavish parties in the Villa Bethania. There's, no tangible proof however that Calvé ever set foot in Rennes-le-Château.
Recording of Emma Calvé from 1908, Ma Lisette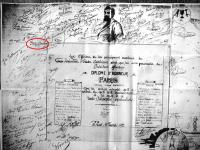 Emma Calvé was member of a Martinist order as demonstrated by her signature on this document made in Paris on November 11th, 1892, at the cabaret "Chat Noir". It shows her signature and "SI" or "Supérieur Inconnu", the third degree of the Martinist Order. It is said Saunière was member of a Martinist lodge in Lyon. Calvé's tomb in Milau shows some esoteric imagery like an iron bee. Emma Calvé is said to have been related to Melanie Calvet, the farmer girl who saw the Virgin Mary at La Salette.
The alleged relation between Calvé and Saunière was brought back into the spotlight when Patrice Chaplin published her book City of Secrets, in which she claims they knew eachother very well. Thanks to Mark Naples for the Cabrières story.
The Château de Cabrières