Abbé Louis de Coma (1822-1911)
It took two enormous dynamite explosions to level the Monastère du Carol (Monastery of Carol) in November 1956. It marked the end of what had been a life's work for its creator Louis de Coma, in a remarkable resemblance to the life's work of Abbé Bérenger Saunière of Rennes-le-Château, some 85 kilometres away. It is uncertain if the two men knew eachother but there was certainly an influential family who knew both of them well enough
to donate them a small fortune to convert into masonry and statues. The Comtesse de Chambord, married to Henry V, the last Bourbon French throne pretendent and herself a Habsburg, supplied De Coma with 4.000 Gold Francs against 3.000 for Saunière. It has been suggested De Coma knew Saunière's brother Alfred, who was a religious teacher in Narbonne like himself, but it's impossible to confirm that.
In stark contrast to Saunière, De Coma was already a rich man when he started his project. Louis was one of nine children of Bonnaventure de Coma, a famous architect from Foix. The De Coma's were an old family dating back from at least the 1500s. After succesfully completing the small and grand Seminaries, he wanted to continue his studies at St. Sulpice in Paris. When his diocese refused him to go there, fearing he wouldn't return from Paris, he entered the Jesuit Seminary of St. Acheuil in Amiens. He became a member of the Jesuit 'Compagnie de Jesus'. After finishing his studies he became a religious teacher until his father died in 1855. He returned home to the family domain of Carol, close to Le Baulou in the French Ariège region.
He used the money he inherited to found "l'Oeuvre de Gethsemane" (the works of Gethsemane), a foundation that received money for saying masses for the death. His obsession with death also made him the leader of the "Association de Bonne Mort" (the Good Death Association). He became an expert in saying masses for the death and made very serious money earning a franc for mentioning the name of the deceased during mass and 100 francs for a tailor made mass with every possible decorum. He travelled the entire country doing so and made quite a name for himself. Bérenger Saunière too is now claimed to have been involved in a Death Cult by French researcher Isaac Ben Jacob who has published several articles and a book about this.
After he had decided to invest his money in making the family estate a religious centre, he started building an immense underground chapel grotto in 1856. The plans were drawn by his brother Ferdinand de Coma who had become a famous architect in succesion of their father. From March 1860 onwards, the site was steadily expanded with a spring, a church, a monastery, gardens, ponds, statues and a walkway with large chapels, containing big stations of the cross. It was during this work he attracted the attention of the Comtesse de Chambord for her donation.
The church De Coma built looked very much like the church in Lourdes, in fact, the locals say it was almost a replica. Since De Coma's church was there first, perhaps de church in Lourdes was a copy or had at least been inspired by his work. The whole domain, which he claimed represented the garden of Gethsemane from the passion of Christ, was meticulously laid out. He even had plants and trees imported from the Holy Land to make it look like the real thing. For the many caves and grottos he bought stalagmites and stalagtites from his cousin De Vézian who was the owner of the Grottes du Portel in Loubens.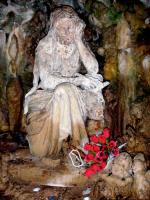 Central to his work was Mary Magdalene. No pictures survive of the inside of his church, but the grotto and the burial chambers he built are still there. The oval room, that houses her statue is part of a floorplan with an Egyptian Ankh-cross design. There were more unusual features in his domain, like the fact that it was completely aligned North-East (including the church) rather than the usual East-West. It's perhaps speculative to suggest a relation with the fact that his brother Ferdinand was forbidden to work for the diocese any longer after he had finished the works of his brother.
In 1879, Jules Ferry became minster of Public Reform in France. He dismantled the Compagnie de Jesus and started disentangling the church and the state. The Jesuits who had traditionally been in the job of teaching were hit hard.


The building was finished in 1885. De Coma covinced the Holy Ghost community of Antoine Decressol to settle in his monastery. They left while De Coma was on a pilgrimage to Lourdes in 1886, after a year of quarreling. De Coma tried to transfer his buildings into an apostolic school. This activity alone costed him 500.000 francs.
De Coma managed to become the local priest of Baulou in 1890 for which ironically he had to say mass in the small village church that was aslo dedicated to Mary Magdalene.

In 1904 the separation of church and state was a fact. The Monastère du Carol served as a refuge for priests who had fled from the North of the country to the safer foot of the Pyrenees. It was also the year he stopped acting as a priest. He was now an old man, strange and isolated. He is said to have been walking his enormous estate in his mother's clothes. On November 14th, 1911, he was found lying dead in his bed at age 89. Since he died without leaving a will, his estate befell to the state.

Until 1956 the buildings stood empty, housed some soldiers and the ocassional party. In 1956 the bishop of Pamiers decided to sell the domain to Henri Baures. As an explicit condition it was demanded that the whole monastery was to be levelled to the ground including the church. The diocese claimed that it wanted to prevent a sect from moving into the building. Why that hadn't been a problem between 1911 and 1956 and how that would change now there was a decent inhabitant was never explained.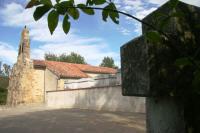 What remains today is only a small building housing a bed and breakfast. De Coma's body, again like Saunière's, was moved from it's crypt and placed in the unhallowed ground of the parking lot, 20 metres from the small village church of Baulou. He lies in an unmarked tomb beneath a simple cross, on top of which a cross patée and a five-pointed star have been chiseled out.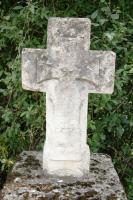 There are a staggering number of similarities between the lives of De Coma and Saunière. One built Gethsemane, the other Bethania, both key-locations in the passion of Christ. Both were moved out of their graves into unhallowed ground long after their deaths. Both were financed by the Habsburgs, both built large and unusual religious structures. Both sold masses and are linked with a Death Cult. All this happened within a timeframe of 50 years from 1856 to 1906. A lot of coincidence indeed.
Forunately, it was recently discovered that De Coma's Stations of the Cross had been saved from destruction and moved to the village of Raynaude where they can still be seen today.

photos shown with kind permission of Andrew Gough and Filip Coppens. Sketch copyright of Jacques-François Réglat and Monique Dumas from their book Le Monastère Dynamité, that you can order by contacting Autographe & Images, Parc des Sports, allée Gabriel Bienes 31400 Toulouse, Tel : 05 61 62 68 00 (EUR 24.50)