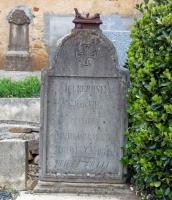 Curé de Rennes-les-Bains and predecessor of Henri Boudet, as priest of Rennes-les-Bains. , According to Les Dossiers Secrets Jean Vié learned of Antoine Bigou's secret through Abbé François-Pierre Cauneille who had accompanied Bigou when he fled to Spain around 1792.
The priest's tombstone features in many of the Rennes-le-Château stories. The epitaph displays: Mort le 1er 7bre 1872. That's, curious because he actually died a day earlier. The number 17 that is emphasized this way, plays a dominant role in the enigmas and riddles that make up the Mystery of Rennes-le-Château. , The number becomes even more interesting in combination with the name Jean Vié, pronounced Jeanvier or, Janvier meaning January in French. 17th January is the feast day of St. Sulpice. The dates on the Tombstone appear to have been willingly adjusted to phonetically read : 1 7 Jean Vié or 17 Janvier (17th January).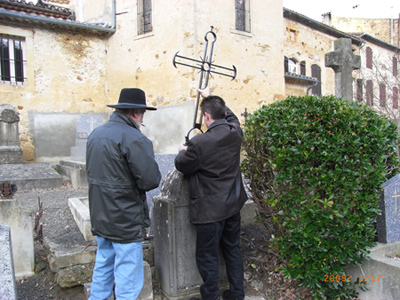 On 17th January 2009, the French Cercle de 17 Janvier (Circle of 17th January), restored Jean Vié's tombstone to its original state. With the help of some old photographs, a replica was made of the iron cross that once mounted the vertical stone. , Like the old one, the new cross has a small vertical arrow on top. Perhaps coincidentally, this arrow marks the beginning of a well known line for researchers into the enigma.
Franck Marie, in his book "Rennes-le-Château, étude critique" reports that Jean Vié inscribed his name into one of boulders on the plateau of l'Homme Mort (dead man) which is part of the Cromleck of Rennes-les-Bains.
. Photo of the restoration of Jean Vié's tomb copyright of Jean-Claude Debrou