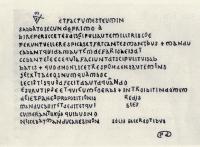 Allegedly found by Bérenger Saunière while restoring his church in July 1887. It contains Latin text fragments of Luke VI, 1-5 and Matthew XII, 1-8, Mark II, 23-28. On this parchment a coded message was found that is at the heart of the enigma:
A DAGOBERT II ROI
ET A SION EST CE TRESOR
ET IL EST LA MORT
This message was first decoded and published by Henry Lincoln. The parchment as it was first published by Gérard de Sède is believed to be a manipulated copy of an original. This original was probably sold by Noel Corbu to a couple of Englishmen. The manipulated copies were, given to De Sède by, Pierre Plantard and Philippe de Chérisey, united in their Priory of Sion.