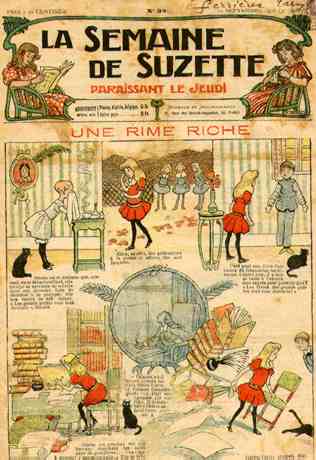 Abbé Saunière was an avid collector of postcards. He sometimes put little adverts in magazines inviting people to send him cards. One know example is the advert he put in 'La Semaine de Suzette'. As a result he for example received a card from a certain Anne Marie Maître from Nantes in Bretagne.
After the priest had finished the construction of his domain in 1907 he had a series of postcards produced himself. For the set he selected 33 photos of his domain, the Church, the Château Hautpoul, the village and one or two locations in the vicinity to which he attached special relevance. The cards give a great impression of the domain in the early 1900s. Saunière, his maid, his dogs, the villagers, they all proudly pose in front of the brandnew buildings and manicured gardens.
The number of cards was 33 and they were sold for 10 ct. each to visitors of the area, attracted by its long history, the works of Saunière or taking a break from the hot baths in Rennes-les-Bains. Commercially it wasn't a bad move as he wrote in one of his letters to a friend: "All the bathers take the complete collection", bathers of course being the visitors to the spa of Rennes-les-Bains. "The cards have so much success that I can hardly keep up supplying them" he added.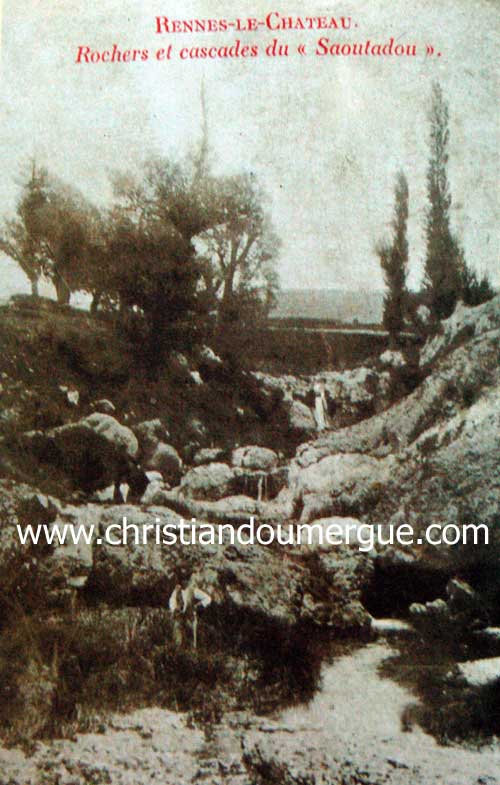 The number 33 carries special relevance for Christians. It is the age of Jesus when he was crucified. In relation to Saunière it should also be remarked that 33 is a pivotal number in freemasonry. It is the highest possible grade one can have in a masonic organisation. We know Saunière was involved in masonic activities. French researcher and author Daniel Dugès, in his book Rennes-le-Château entre La Rose et l'Équerre, argues that Saunière's church is in fact a Masonic Temple.
All cards depict places in and around Rennes-le-Château with one odd exception. The 33rd card displays the Rocks and Cascades of Saoutadou. It shows Marie Dénarnaud and Saunière sitting with a white umbrella and an unknown figure at these waterfalls that are situated in the Brenac area.
All 33 Postcards
©2007-2012 renneslechateau.nl, all rights reserved