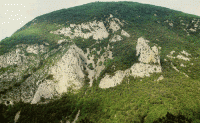 Most norderly peak on a line of seven peaks that cross the same meridian. Legend has it that there is a copy of Solomon's Temple inside the mountain with six or twelve entrances.
Authors Andrews and Schellenberger believe that the body of Christ, was buried beneath this dominant landmark, clearly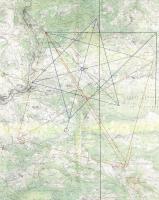 visible from Saunière's tower. Click the map to see, the geometry they discovered in the landscape or the area. (copyright Andrews & Schellenberger).
A couple of years ago, a tomb was found in a cave, some 200 metres inside Mount Cardou. You can see the pictures here.