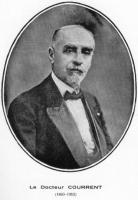 Docteur Paul Courrent (1861-1952)
Courrent was Saunière's doctor and a good friend in his later years until the Abbé's death in 1917. Besides being a doctor, a winemaker and particularly wealthy, he was a fanatical archeologist, heraldist and historian. A prominent member of the 'Société des Etudes Scientifiques', he published works on a multitude of subjects ranging from the Lords of Durban (Perillos) to prehistoric surgery.
French researcher Roger-René Dagobert (who was related to the famous French General Dagobert), claimed that Saunière trusted the parchments he found, to Dr. Courrent. If the parchments really existed, this is quite plausible, since Courrent and the Abbé were close friends, and they spent a lot of time together in Saunière's last days.