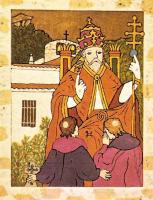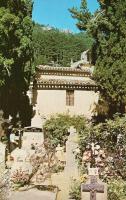 According to Jean-Pierre Deloux and Jacques Brétigny, in their book Rennes-le-Château, capitale secrète de l'histoire de France, this drawing once decorated the church in Rennes-les-Bains. It shows a pope, copied from a well-known deck of Tarot Cards. Behind him is the church of Rennes-les-Bains, seen from the cemetery, with the rock of Cap de l'Homme in the distance. The features are unmistakable. The cross, the barred window and the rock can easily be recognised.

The painting was probably based on the 'Pope' card from a well-known Tarot deck.
The Tarot deck in question, which was based on the Marseille series, was published in 1899 by Swiss artist and occultist Oswald Wirth.

picture copyright Jean-Pierre Deloux