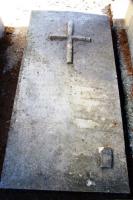 Tombstone of Jean Jacques Henri Boudet (Axat, Aude)
Henri Boudet is buried in the cemetery of the town of Axat. The top of his tombstone reads "F A M I L L E S A P R E L L A B A T B O U D E T", indicating the tomb is a family grave containing multiple persons, although only Henri and his brother Edmond are mentioned by name in the inscriptions. The Notary Edmond Boudet was buried in this tomb in 1906, 9 years before Henri's death. On the lower right hand portion of the tombstone is a raised, rectangular shaped slab, elevated from the base of the horizontal tombstone by 3 cm. The raised masonry is approximately 11 cm wide and 9 cm long and carries the inscription I.X.O.I.S.

At first glance the expression 'IXOIS' seems to defy language, combining Greek, Latin and English characters to form a nonsensical string of letters. When viewed upside down, the inscription turns into 3.I.0.X.I, perhaps being a reference to Boudet's puzzling 1886 book; La vraie langue celtique et le cromleck de Rennes-les-Bains. The '310' portion of the upside down view matches the number of pages in Boudet's book: 310. The 'XI' portion is thought to reference Chapter 11 of Boudet's book, which many believe to contain a treasure map. Collectively, these observations have led researchers to conclude that the little stone book conceals a secret.
In actual fact, it concerns a representation of the word ICHTUS meaning Fish and representing Jesus.
The individual letters of the expression hold the following meaning:
| | |
| --- | --- |
| I | – for Jesus in Greek |
| CH | – for Christ in Greek |
| TH | – for God in Greek |
| U | – for son in Greek |
| S | – for savior in Greek |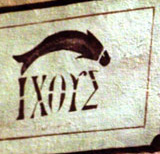 The Cathedrale de Notre Dame des Pommiers et St. Thyrse of Sisteron (Provence) contains the exact same word I.X.O.I.Σ. written, below a fish, proving it was not an uncommon way to refer to Christ.
Andrew Gough elaborates on this theory in his article here.
Location of Boudet's Tomb in Axat
[google-maps width=600 height=300]
Photos (c)2007 Andrew Gough