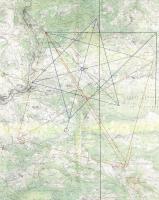 In 1996, an episode of the BBC show Timewatch was dedicated to Paul Schellenberger's and Richard Andrew's book the Tomb of God. In this controversial book, the authors claimed that they had found a tilted square on the three paintings that play a role in the Mystery of Rennes-le-Château. It concerns the reproductions Abbé Saunière allegedly bought in Paris in the 1890's: the Shepherds of Arcadia by Poussin, St. Anthony by Teniers and a portrait of Pope Celestine V by an unknown painter.
By projecting the discovered geometry on the map of Rennes-le-Château and its surroundings they found a spot on Mount Cardou, in which they claimed the body of Christ had been entombed.
It was during this documentary that French author and researcher Jean-Luc Chaumeil introduced Philippe de Chérisey's manuscript Stone and Paper, that had been unpublished until that moment and in which the Marquis de Chérisey claims that he was in fact the creator of Saunière's famous parchments.
You can watch the video by clicking on it.
©2007-2012 renneslechateau.nl, all rights reserved. Video shown here under Creative Commons Non-commercial No Derivatives Licence. Video copyright BBC