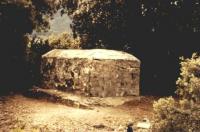 Tombeau des Pontils
This tomb, once situated close to Arques at a location called 'Les Pontils', bares a striking resemblance to the tomb in the second version of Nicolas Poussin's les Bergers d'Arcadie.
The tomb is no longer there today. It was destroyed by its owner Mr Roussett on 9 April 1988, with the agreement of the Peyrolles Municipal Council. Rousset was sick and tired with the trespassing on his property by unwelcome treasure seekers.
It appears impossible that this is indeed the Tomb displayed by Poussin on his masterpiece of the 1640's. The Tomb was built during Saunière's life in 1903 by a mason from Rennes-les-Bains by name of M. Bourrel for Mr Galibert, the grandson of American industrialist Louis Galibert, who had settled on the plot of land 20 years earlier. Several people were buried below it until their remains where moved to the cemetery of Limoux in 1921. The piece of land was then acquired by another American, Louis Lawrence who allegedly buried his mother, grandmother and 2 cats in the tomb (all mummified (!)).
Interestingly it was the father of Déodat Roché who, in his function as a notary, secured that the land was assigned as a burial plot. Roché was perhaps the best known Cathar of the 19th and 20th century.
The location sits exactly on top of the old Roseline or Meridien of Paris and the backdrop has indeed a startling resemblance to to the Poussin painting. It is rumoured that the Tomb was made as a copy of a tomb that stood there much earlier, but was destroyed by Colbert who was looking for old mine entrances in the region. Researchers have not been able to find any evidence for that claim so far.

What is know from the Sabarthèse Dictionary that until the French Revolution, the plot of land on which the tomb once stood was owned by the Ducs of Joyeuse and that the site had a function as a cemetery.
It is claimed this site was the, original location of the Arcadia stone.
Location of the Tomb at Les Pontils
The map ID you have entered does not exist. Please enter a map ID that exists.